Daikin 5kW Split System Cora Series FTXV50WVMA
Model# FTXV50WVMA
The Daikin 5kW Split System was designed to blend with different parts of your home. Its smooth contours and flat panel makes in blend harmoniously with modern style living rooms, bedrooms or kitchens. To add more convenience and comfort, with Daikin's Mobile Controller Smartphone Interface allows you to control your Daikin Split System from anywhere, anytime.
Perfect for room size: 30m² – 40m² under standard conditions.
Service Info:
Both the air conditioning unit and a standard installation are included in the price. If it is not a back-to-back installation and require extra material, you will be charged accordingly. We will advise you before we start the installation. The price also includes a 5 year warranty on the product and installation.
Learn more about split system air conditioning →
What's included:
✔️ Air conditioning unit
✔️ Back to back installation
✔️ 5 years warranty on parts and labour
✔️ Maximum 5m of distance between fan coil unit & condenser
Before completing your order, pick a convenient date and time slot from the calendar below.
Design
The Daikin Cora Series Inverter air conditioning system prides itself with its luxury whisper quiet operation, high standards of comfort and foremost in energy efficiency. All with with a superior and modern design to suit your taste.
Available in:
Reverse Cycle (Heating & Cooling)
Cooling Only
Capacities:
Reverse Cycle: 2.5kW, 3.5kW, 5.0kW, 7.1kW,  9.4kW
Cooling Only: 2.5kW, 3.5kW, 5.0kW, 7.1kW, 9.4kW
Refrigerant:
Daikin 5kW Split System Inverter Cora Series price:
The price for the Daikin 5kW split system Model# FTXV50WVMA is $2.120. The price includes a basic installation. We will let you know beforehand if we need any extra material.
Models we install:
FTXV50WVMA (Medium Room: 30m² – 40m²)
Additional information
| | |
| --- | --- |
| Capacity | 2.5kW (Small Room), 3.5kW (Small / Medium Room), 5.0kW (Medium room), 7.1kW (Medium / Large room), 9.4kW (Large room) |
Technical Specifications

Daikin 5kW Split System Inverter air conditioning system full technical specifications:

Model# FTXV50UVMA
All Daikin Cora Series Models
Other brands with similar specifications
We work with global brands
We listen to our costumers, so we carefuly select the models we supply to ensure consistency, reliability and durability. Comfort for you and your family in your home.

👩🏻‍🦰 Caren
Rockdale, NSW.
"Mark is absolutely amazing! Came on time, completed the job efficiently and cautiously. He was an absolute pleasure and made getting a tricky air conditioner unit change over simple and easy! I would recommend him to everyone!! "

👩🏻 Caren
Rockdale, NSW.
"Excellent service, arrived on time, very courteous and was professional. Would definitely recommend. Price was also excellent."
Daikin 5kW Split System FTXV50WVMA | Schillair Sydney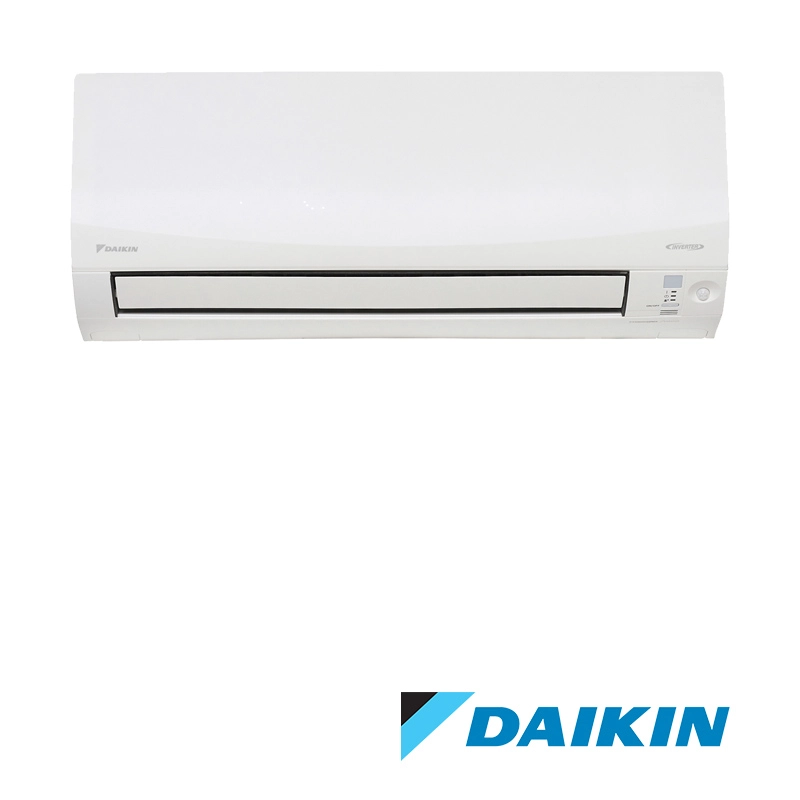 The Daikin 5kW Split System FTXV50WVMA is perfect for medium rooms. WE install in all Sydney suburbs. Book online!
Product Brand: Daikin
Product Currency: AUD
Product Price: 2120
Price Valid Until: 2021-10-31
Product In-Stock: InStock