Panasonic 10kW Ducted Air Conditioner Installed
Model# S-100PE1R5B
The single / three-phase air conditioning Panasonic 10kW ducted High Static Pressure with R-32 gas has been introduced as a great solution for the whole house air conditioning of all types of offices, homes, stores, restaurants, etc. looking for flexible and quiet air conditioning as well as highly efficient. The S-100PE1R5B single / three-phase high-pressure ducted air conditioner is part of the Panasonic High Static Pressure Ducted range, a range of indoor units that have greatly optimized the efficiency they offer in their performance, ensuring performance at full power even if kept ON 24/7. The S-100PE1R5B ducted unit also allows for easier maintenance, having simplified the removal of the filters.
Service Info:
Both the air conditioning unit and a standard installation are included in the price. We will inspect your property before any ducted system installation. The price includes a 5 year warranty.
Learn more about ducted air conditioning →
What's included:
✔️ Air conditioning unit
✔️ 5 years warranty on parts and labour
✔️ Zones Included
Ducted products require inspecting the property for a suitable installation. Book a free consultation today to schedule an inspection.
Panasonic 10kW Ducted High Static Pressure Air Conditioning System
Premium Inverter Technology
Panasonic Premium Inverter Ducted air conditioners are designed to give you exceptional energy saving performance while ensuring you stay comfortable at all times. Energy efficiency is improved drastically by the new airflow design.
Reduces electricity consumption:
As one of the leading air conditioning brands worldwide, the Panasonic Premium Inverter Ducted air conditioner reduces wasteful operation, giving you energy savings and better performance.
Panasonic Premium Inverter Ducted air conditioners can operate with higher power during the start-up period to cool and heat the room faster than conventional air conditioners.
The Panasonic ducted aircons are amongst the quietest in the world, so you can enjoy the comfort of running your air conditioner at night and still have a relaxing sleep. The outdoor unit is also very quiet which means you don't have to worry about keeping your neighbours up either.
Panasonic 10kW Inverter ducted air conditioner price:
The price for the Panasonic 10kW Inverter ducted High Static Pressure with Model# S-100PE1R5B is $7.499. The price includes a basic installation. We will let you know beforehand if we need any extra material.
Panasonic ducted models we install:
S-100PE1R5B Panasonic 10kW ducted air conditioner, single phase.
Technical Specifications



Panasonic High Static Pressure ducted Inverter 10kW single / three phase air conditioning system technical specifications: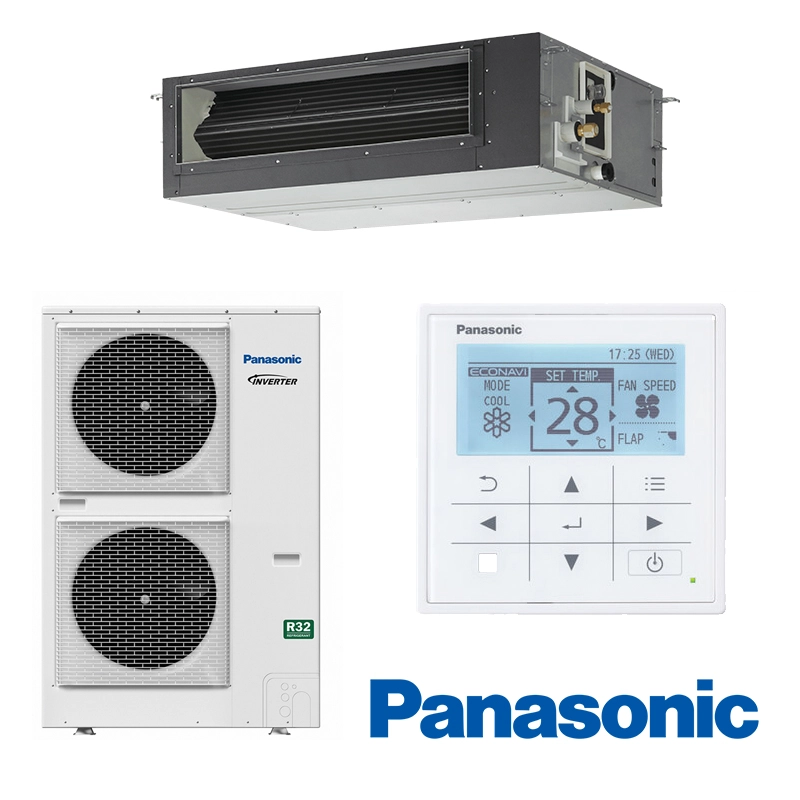 S-100PE1R5B
Full specifications will open in a new window as a downloadable file.

👩🏻‍🦰 Linda
Hornsby Heights, NSW
"We were very happy with the fast, efficient and honest service. Mark was also thoughtful and polite. Highly recommended."

👩 Janette
Peakhurst Heights, NSW
"Mark was amazing! Turned up the next day, on time, and fixed my air conditioning at an incredibly good price. I honestly couldn't be happier. I've found my air con man for the future! "