TECO 10.5kW Ducted Air Conditioner Installed
Model# TDS-TSO105HVDM
The TECO 10.5kW Ducted Reverse Cycle air conditioners are designed to suit every Australian lifestyle – no matter the climate outside. Whether you need heating or cooling, be in control of your climate all year round with TECO. They supply to many mine sites and commercial businesses in the harshest places from the Pilbara to Kalgoorlie to Papua New Guinea. Their designs, functionality and performance are backed by their in-home dedicated service network.
Service Info:
Both the air conditioning unit and a standard installation are included in the price. We will inspect your property before any ducted system installation. The price includes a 5 year warranty.
Learn more about ducted air conditioning →
What's included:
✔️ Air conditioning unit
✔️ 5 years warranty on parts and labour
✔️ Zones Included
Ducted products require inspecting the property for a suitable installation. Book a free consultation today to schedule an inspection.
TECO 10.5kW ducted Inverter High Static air conditioning system
Inverter Technology
TECO high static ducted air conditioners are engineered to be reliable, efficient and durable. Enjoy the comfort of your air conditioning system in all types of weather.
The indoor unit in the TECO ducted air conditioners has a fan coil that conditions the supplied air, this conditioned air is then distributed through ducting in the roof to outlets in the ceiling or walls.
Enjoy comfort with TECO outdoor units tested and built to last. Reliable, even in the harsh Australian environment
An optional Wi-Fi module is available to install on your TECO ducted air conditioning system. Along with the App NetHome Plus ↗︎, you can have total control of your air conditioning system from your mobile device. Set your system from anywhere!
TECO 10.5kW ducted High Static Pressure price:
The price for the TECO 10.5kW Inverter ducted High Static Pressure with Model# TDS-TSO105HVDM is $5.672. The price includes a basic installation. We will let you know beforehand if we need any extra material.
TECO ducted models we install:
TSD-TSO105HVDM TECO 10.5kW ducted air conditioner.
Additional information
| | |
| --- | --- |
| Capacity | 10.0kW, 13.0kW, 14.7kW, 17.0kW |
Technical Specifications


TECO 10.5kW ducted Inverter High Static air conditioning system technical specifications: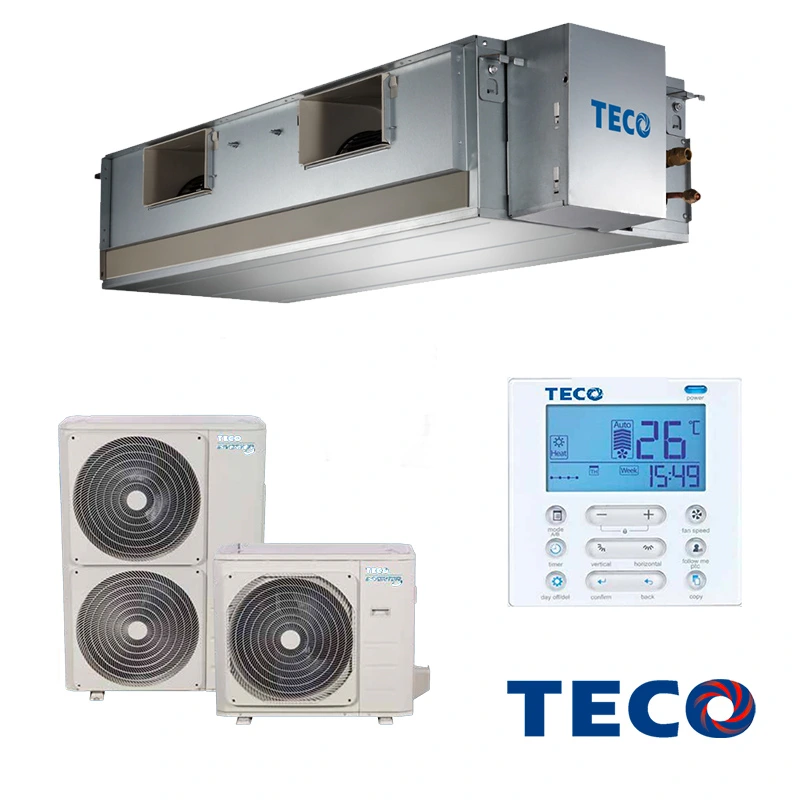 Model # TDS-TSO105HVDM
Full specifications

will open in a new window as a downloadable file.

👨🏻 Kui
Marsfield, NSW
"Mark did a really good job. Giving information and price before, no extra hidden cost. "

👨🏻 John
Parramatta, NSW
"Good communication & friendly service."